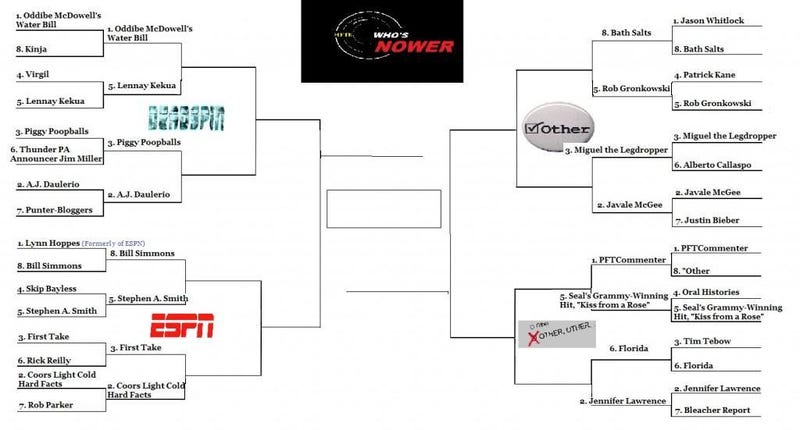 Thank you to everybody who voted in the Round of 32 in the Who's Nower tournament. Before we get started with the Round of 16 matchups, here are a few notes from the first round of voting:
#1 seeds had a tougher time than anticipated, with only two of the four advancing to the Round of 16. The 8-seed, "Other," put up a strong fight as well, but PFTCommenter hit the campaign trail hard over the weekend and walked away with a win.
The closest matchup of the round occurred between A.J. Daulerio and Punter-Bloggers, with Daulerio edging Punter-Bloggers by a mere 14 votes.
It was a good round to be a #2 or #5 seed, as all eight of these entrants emerged victorious.
The largest margin of victory in the Round of 32 belonged to Javale McGee, who bested Justin Bieber, collecting 87% of the votes cast. Some critics believe that the timing of the first round was solely to blame for this result, as nearly all of Bieber's supporters had been unable to access the internet because, as one source put it, "rents took my phone awy for the wknd cuz they thought id spend more time talkin to my grandma lol smh ya rite." The Who's Nower Rules Committee has since reviewed and rejected an appeal filed on Biebs' behalf, upholding McGee's victory.
Onto the Round of 16 matchups!
Deadspin Division
(1) Oddibe McDowell's Water Bill vs. (5) Lennay Kekua
This will determine once and for all what happens when a Deadspin folk hero matches up against a spun-dead faux hero. Oddibe McDowell's Water Bill will attempt to continue ride the 2013 wave of momentum into the Round of 16 that has already included induction into the Deadspin Hall of Fame, the institution of password protection and a first-round obliteration of Kinja. At the same time, Lennay Kekua will attempt to finish what she* started in the Round of 32 when she* eliminated the other half of the 2012 Deadspin Hall of Fame class, Virgil.
* Does not exist
(2) A.J. Daulerio vs. (3) Piggy Poop Balls
The history between these two competitors is no secret. What began as a genuine concern about an eggplant sized poop later transformed into a close friendship between the two, culminating in a PolkPanther sponsored, joint 2011 Deadspin Hall of Fame campaign. However, a source close to both parties has said that ever since Deadspin Editor-in-Chief Tommy Craggs used his power to overrule the voters and induct Daulerio into the Hall of Fame while leaving Poop Balls out, the relationship between the two has eroded.